WHY USE DRONE FOCUS?
All too often we hear stories about UAV accidents from people who have hired inexperienced and/or un-insured operators.  When questioned, the client's most common response is that they used a friend or family member with a drone, because it was cheap (or free). Since most UAV's appear to be simply "toys" many people have no idea that it is an offence to operate a UAV for reward or hire without proper licensing and is subject to penalty.
So if the price seems too good to be true, it probably is.   
If you're considering using a UAV operator for aerial work please ensure they meet and abide by Transport Canada requirements.  Or simply hire Drone Focus because we do.   
I AM INTERESTED, WHERE DO WE GO FROM HERE?
A lot of work goes into every aerial shoot regardless of how many flights are required.  However, before we fly we need some information:
We need the exact location of the shoot:

 Transport Canada requires that we ensure an appropriate safety perimeter for pedestrian and vehicle traffic.  Should a location be within the airspace of an aerodrome or airport, we must submit a flight plan detailing maximum flight altitude, safety and flight perimeters, emergency contingency plans, emergency landing areas, assigned crew and responsibilities, etc. to get permission to operate from air traffic control. We must also notify neighbouring properties (within a defined safety perimeter) for privacy reasons. 

We provide a quote:

  Every location is different and every job request varies.  For price reference - a typical stills aerial photo shoot for real estate clients is $200 and includes 6 edited photos.  A one minute video for real estate clients is $350.  We pride ourselves in professional and efficient service, and should a shoot require less time than quoted you would be charged accordingly.  
We check the weather:  Weather can be unpredictable.  While we try to plan a shoot based on weather forecasts it may need to be postponed or rescheduled at the last minute, due to uncooperative weather.  UAVs cannot be flown in rain, snow, fog or high winds for safety reasons.
WHAT IS YOUR TURNAROUND TIME FOR PHOTOS?
Our average turnaround time for fully edited photos is 24 to 48 hours. The finished files are provided via email.
WHAT IS YOUR TURNAROUND TIME FOR VIDEOS?
Our average turnaround time for fully edited videos is 1 to 3 days. We then email you a YouTube or Vimeo link that can be used to embed the video on your website, share via social media, or downloaded for use offline.  The RAW files are also available on request.
TRANSPORT CANADA RESTRICTIONS?
While it is legal to operate UAV's in Canada, the use of UAV's for commercial purposes is highly regulated.   Commercial purposes can be defined as any non-recreational UAV operation and use (such as aerial photography, geomatic surveying, crop observation, advertising, research and development, etc.) that is provided for sale or re-sale.  Beware that it is an offence to operate a UAV for reward or hire without proper licensing and subject to penalty (see Transport Canada Penalties below).  
Drone Focus is licensed by Transport Canada to operate UAVs for commercial purposes.  We fully comply with the aviation laws that govern the use of UAV systems in Canadian airspace - the Aeronautics Act, and the Canadian Aviation Regulations.
AIRSPACE, AERODROMES & HELIPORTS
Wether it's a UAV or an airplane, here are many areas of restricted airspace around Canada that require prior permission operate in.  The map below shows the restricted airspace in and around Victoria.  If the location of the operation falls within any of the highlighted airspace marked on the map below, Drone Focus needs to notify the respective Air Traffic Control units of our intended operation.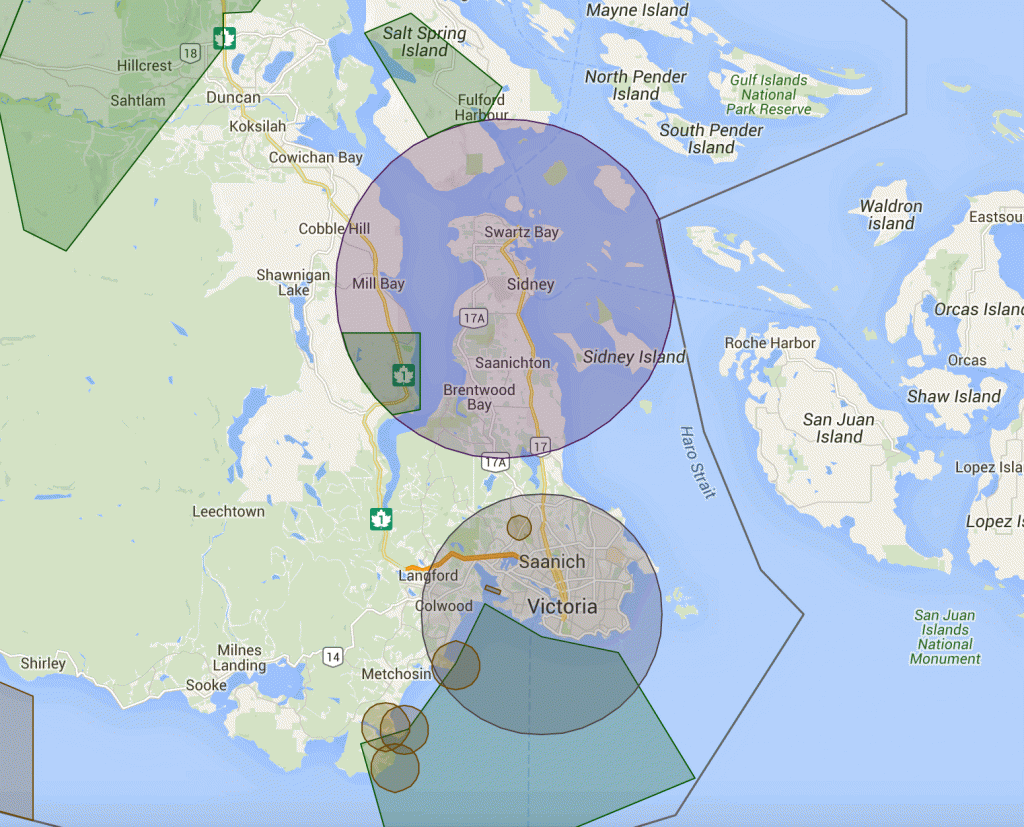 HOW MUCH NOTICE DO YOU NEED BEFORE A SHOOT?
Our Transport Canada Special Flight Operations Certificate (SFOC) allows us to operate anywhere in British Columbia with relatively short notice.  Schedule and weather permitting, we can be ready to shoot with at little as 24 hours notice, however we do prefer to have 2 business days to notify Nav Canada (the corporation that owns and operates Canada's civil air navigation system) should it be required.  Notifying us as early as possible will not only ensure we can shoot without delays, but also gives us the opportunity to scout the location beforehand if necessary, plan shots, and prepare our equipment.
HOW HIGH, AND HOW FAR CAN YOU FLY?
Our long term SFOC allows us to operate at a maximum altitude of 120m (400ft) depending on the location.  Although our equipment can safely operate several kilometres away, we are required to maintain clear and unaided visual line of sight with the UAV at all times.
INSURANCE
While significant checks to minimize risks are completed before each UAV flight, Drone Focus is also covered by liability insurance in case the unexpected happens.  Our insurance covers both damage to property and injury to persons in case of an accident.  We can't stress how important this is - if you are going to use an UAV operator make sure they are covered by insurance.  Professional operators will provide proof of insurance on request.
CANCELLATIONS AND RESCHEDULING?
If a shoot needs to be rescheduled due to poor weather there will be no extra charges involved and we will do our best to make an opening in our schedule as soon as possible.
WHAT EQUIPMENT DO YOU USE?
We use production DJI drones and cameras.  The 4K ultra high-definition Sony EXMOR sensor and processor also shoots 12 megapixel DNG RAW stills, providing crisp and sharp images.  Our cameras are flown with DJI quadcopters and stabilized with 3 axis brushless gimbals. Through the use of flight applications the UAV's path and camera tracking can be pre-programmed to ensure smooth videography.  Video is streamed back to the operator so that adjustment and directing can be made "on the fly".  Our lightweight equipment is safer to operate around people and reduces our required lateral separation from people and objects.  
CONCLUSION
Drone Focus is here for the long term. Our philosophy is to supply peace of mind for our clients by providing a professional, high quality service without jeopardizing safety or the UAV industry as a whole.
TRANSPORT CANADA PENALTIES
Transport Canada is serious about safety. Using your UAV in a reckless and negligent manner (e.g. not complying with the conditions in the exemptions) could lead to penalties and fines.  Additionally this type of negligence could cause fatalities, resulting in lawsuits, fines and jail time.
Penalties may be assessed in the amount of $5,000 for individuals and $25,000 for corporations for those that should be operating under an SFOC, but are not.
The Criminal Code of Canada describes several offences involving the dangerous operation of aircraft and endangering the safety of other aircraft. Committing such offences is punishable by monetary penalties and/or jail time including imprisonment for life.
Other penalties may apply against other regulations.
If you are still not convinced and want to try the do-it-yourself method, we suggest reading this...